You want a memoir editor who can write, teach, and edit brilliantly.
An editor must understand how to:
use writing craft
teach you how to enhance your writing craft
communicate writing solutions clearly and directly—yet always with the support you need to succeed
Here is what you get working with me as an editing client:
• A passionate reader who enters your story eager to discover your intentions
• A smart editor who quickly discerns if your story is working
• An articulate teacher who helps you fix problem areas of your story by developing content and editing current material
• A savvy member of the publishing industry who advises on narrative nonfiction that sells and walks you through preparing your manuscript and book proposal for agents and editors
Common concerns you may have as a writer:
• You are wondering where to go next with your manuscript. It's as done as you can make it, but you are not sure if it is ready for agents and editors, or . . .
• You have submitted your manuscript to agents and editors, gotten rejections, and you need fresh eyes to help fix story, writing and marketing problems, or . . .
• You need to create a book proposal, and don't know where to begin.
I'm happy to help you solve these issues and move your manuscript toward publication.
Or, schedule a phone consultation:
Client feedback:

Here's what Lisa's clients say:
"I've told anyone who would listen that working with Lisa Dale Norton for me was the equivalent of getting an MFA degree. I started writing as a journalist, and finished my work with her as a memoir writer. To me this means I was using the techniques of fiction to craft a story, instead of reporting on it." —Sally Petersen
"Her work ethic regarding timely responses, pricing, and a genuine commitment to excellence is first rate. I highly recommend her." —Joe Pritchard
Click here to read more from my writing and editing clients.
Shimmering Images—America's go-to guide for writing memoir
How I came to write Shimmering Images: A Handy Little Guide to Writing Memoir:
After interacting with thousands of writers in classes and public gatherings, it dawned on me that the real reason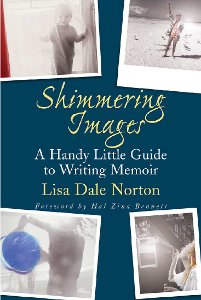 people didn't write their stories was: They simply didn't know how to begin.
Every writing book on the market told them what they should do to create a story, but few offered instruction on how to do it.
With that in mind, I wrote down the simple techniques I've been using for years to help writers get their memories onto the page.
Library Journal  found Shimmering Images "hard to put down."
Click here to buy this handy little guide to writing your life story.