You want a memoir editor who can write, teach, and edit brilliantly.
An editor must understand how to use writing craft, how to teach you to enhance your craft, and how to communicate solutions directly, yet with the support necessary for you to succeed.
Lisa Dale Norton is that kind of editor. She has two books published by St. Martin's Press, including a literary memoir and America's go-to guide for writing memoir; a long history of teaching at university level; years of editing privately with writers completing books; and dozens of speaking engagements sharing the art and craft of memoir.

Here is what I do for you as an editor:
First, I get inside the story you've written. I seek the goals you are reaching for.
Second, when I understand your intentions, I determine if you've achieved them. If there is something to be learned, I teach that. If there is development of content, or editing to be done, I do that.
Third, I advise about what makes narrative nonfiction work and what must be done to achieve publication.
If you have written many pages, but the story isn't coming together, we talk. I listen and ask questions. Then I steer and make writing suggestions. I analyze drafts and give feedback. Together we move your story forward so that is has a narrative arc and a singular voice.
Whenever I have your manuscript pages before me, I read slowly, writing thoughts, explanations, and examples on your pages. I name what works, what doesn't work, why it does or does not work, and how to fix it. I send you these pages and my analysis report. We talk on the phone or via Skype, clarify questions, and devise a way for you to move toward publication.
I love this work.
Client feedback:

Here's what Lisa's clients say:
"I've told anyone who would listen that working with Lisa Dale Norton for me was the equivalent of getting an MFA degree. I started writing as a journalist, and finished my work with her as a memoir writer. To me this means I was using the techniques of fiction to craft a story, instead of reporting on it." —Sally Petersen
"Her work ethic regarding timely responses, pricing, and a genuine commitment to excellence is first rate. I highly recommend her." —Joe Pritchard
Click here to read more from Lisa's clients.
Buy Shimmering Images:
After interacting with thousands of writers through college teaching, speaking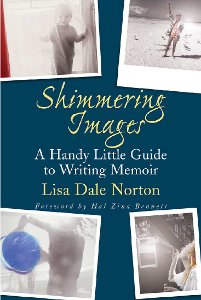 engagements, and workshops, I understood the reason people didn't write their stories: They simply didn't know how to begin.
Every writing book on the market told them what they should do to create a story, but few offered instruction on how to do it.
With that in mind, I wrote down the techniques I have used for years to help writers get their memories onto the page in story form.
Library Journal  found Shimmering Images "hard to put down."
"Only slightly over 100 pages, it (Shimmering Images) gets right to the point about the process of crafting a memoir. . . . Her instruction focuses on the titular concept of "shimmering images"—memories of blazing detail, many only a moment or two in real time, which are embedded in the mind from childhood forward. Norton first outlines the steps for conjuring these images and capturing them on paper. She then follows with simple instruction for selecting, organizing, and unifying the images. Norton's writing is friendly and refreshingly spare, with most chapters only a few pages long."
Click here to buy Shimmering Images.