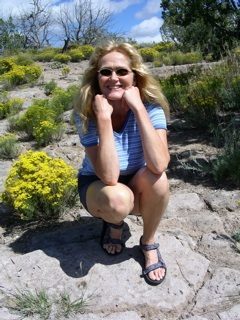 Lisa Dale Norton is an author and a comprehensive manuscript editor. She specializes in memoir. Lisa is passionate about layered writing structures that reflect the complexity of life experience, and about the transformative power of writing a memoir. She is a gifted teacher, clear communicator, and a pro at creating an environment were learning can happen.

Lisa's Books
Lisa wrote America's go-to memoir writing guide, Shimmering Images: A Handy Little Guide to Writing Memoir, and the literary nonfiction story Hawk Flies Above: Journey to the Heart of the Sandhills, which won comparisons to the writing of Annie Dillard.
Shimmering Images: A Handy Little Guide to Writing Memoir is short, direct, humorous, and gives readers a step-by-step technique for mining the past and using shimmering image memories to construct a memoir. It's been a perennial favorite in school systems and continues to sell well after ten years in the marketplace. Lisa teaches the process of writing from shimmering images in schools and at conferences annually.

Hawk Flies Above: Journey to the Heart of the Sandhills combines personal writing with natural history about the Sandhills region of the Nebraska. Lisa uses a return to the Sandhills to put her life back in orbit, but soon discovers the land itself needs healing: the waters of the Ogallala Aquifer are threatened by farming practices. Both of Lisa's books are published by St. Martin's Press in New York.
Lisa's Education
Lisa earned degrees from Reed College and the University of Iowa.
Lisa's Family
Lisa comes from a line of accomplished Nebraskans: Congressman J. N. Norton, District Judge William H. Norton, and Evelyn Norton Lincoln, President John F. Kennedy's personal secretary.
Nancy Rogers Sayre, Lisa's mother, grew up in New England and Chicago, part of the Long Island Sayre family, descended from Thomas Sayre who settled New York in the 1600s. (F. Scott Fitzgerald's wife Zelda was part of the Sayre clan, too.)
Lisa at Home
Lisa lives in Santa Fe; Venice, Italy; and an 97-year-old writing cabin in the Western Sandhills. In Santa Fe she reads, writes her own stories, advises writing clients and edits their manuscripts, plays the piano, swims, and nurtures her beloved flower garden. Roses, columbine, iris, lilies, clematis, wisteria, and daffodils are just a few of her resident species. In Venice, she memorizes the labyrinth of calli daily as she walks, walks, walks, and takes her dose of gelato at Nico. She is an avid traveler in Germany, The Netherlands, Austria, Switzerland, and Italy with the goal of simply absorbing as much language, culture, art and architecture as possible. In the Sandhills, she works on new book ideas, walks the river in summer, rakes leaves in autumn, and annually ponders the wild geese, as they fly south, and then home again.
Lisa and the Hand Written Letter
Lisa has a wide circle of friends living across the United States and in Europe, with whom she stays in contact via real letters, yes, on paper. An avid letter writer from childhood, she adores this form of expression. She always had pen pals. Write her; she'll write you back: P.O. Box 151, Ericson, Nebraska 68637.