Shimmering Images: A Handy Little Guide to Writing Memoir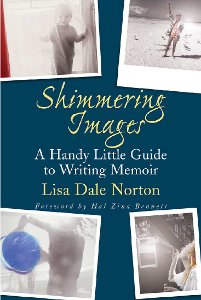 After interacting with thousands of writers through college teaching, speaking engagements, and workshops across the country, Norton understood the reason people didn't write their stories: They simply didn't know how to begin.
Every writing book on the market told them what they should do to create a story, but few offered instruction on how to do it.
With that in mind, Norton wrote down the techniques she had for years used to help writers get their memories onto the page in story form.
The core of Norton's book defines and illustrates the iconic memories she calls "shimmering images." It goes on to help people identify those memories and capture the stories that surround them.
In Shimmering Images you learn a simple way to put together a memoir.
The book is divided into three sections:
• Part I: The Ideas Behind the Process
• Part II: The Process
• Part III: The Tools to Craft the Process
There is no fat in this book. Chapters are short, and they lead you quickly to a finished story about your life.
In Shimmering Images, the writer has a loving guide pointing the way through the thicket of memoir writing.
Click here to read excerpts from Shimmering Images.
Library Journal found Shimmering Images "hard to put down."
Here's more of what they had to say:
"Only slightly over 100 pages, it (Shimmering Images) gets right to the point about the process of crafting a memoir. Norton's goal is to teach lay writers her own method of writing compassionate and arresting personal memoir. Her instruction focuses on the titular concept of "shimmering images"-memories of blazing detail, many only a moment or two in real time, which are embedded in the mind from childhood forward. Norton first outlines the steps for conjuring these images and capturing them on paper. She then follows with simple instruction for selecting, organizing, and unifying the images. Norton's writing is friendly and refreshingly spare, with most chapters only a few pages long."
Endorsements for Shimmering Images:
"Honest, taut, funny, useful, stimulating, graceful, and all those other lovely words, but best of all this book will make you sit your skinny butt in the chair and actually start typing, which is the point. A terrific book of operating instructions for giving birth to stories.

—Brian Doyle, editor, Portland Magazine
"Shimmering Images is a marvelously uncomplicated little book. Read it through once for the gorgeous sentences, but on the second run, get to work! With Lisa Dale Norton's kind guidance, you'll have your life shimmering on paper in no time, a universe to give to friends or family or even the whole wide world."

—Bill Roorbach, author of Writing Life Stories: How to Make Memories into Memoirs, Ideas into Essays, and Life into Literature
"Shimmering Images is an encouraging, smart, and surprisingly funny guide, full of well-tested exercises and approaches. Lisa Dale Norton teaches memoir writers how to get beyond blame and self-pity, how to find the compassion that leads to new insights, how to be "bone honest" with themselves. She is a very wise coach who understands that the writing process is the way to truth, that truth is complex and deep. This "handy little guide" will transform the lives of those who need to understand their pasts in order to change their futures—that is to say, all of us. Trust me, she says: and we do, we do."

—Meg Files, author of Meridian 144, Home Is the Hunter, and Write from Life, Director, Pima Writers' Workshop
"Shimmering Images is a practical, simple, and wonderfully concise guide for memoirists seeking to improve their craft as well as those who are just getting started."

—Debra Ginsberg, author of Waiting, Raising Blaze, About My Sisters, and Blind Submission
"Never has there been a more compassionate gift to those who write. Shimmering Images is a clear-eyed, authentic vision of the art of storytelling. Norton gathers the inspirational winds in her sails, and gently propels the writer toward a place of knowing–that place where one can, at last, trust in the creative self. Awesome. Simply awesome."

—Doris Booth, Editor-in-Chief, Authorlink.com
"Like a smart friend in whom you can confide, Lisa Dale Norton leads you not only through the issues of craft you'll need in order to form your life stories into art, but–perhaps more importantly–through the emotional landscape such work requires. A thoughtful, helpful tool for anyone facing the challenge of memoir."

—Samantha Dunn, author of Faith in Carlos Gomez
"Shimmering Images is every memoir writer's ideal guide. With eloquent simplicity borne of decades of teaching writing, Lisa Dale Norton has given us a map and a method that soars above all others."

—Elizabeth Lyon, author of Nonfiction Book Proposals Anybody Can Write and A Writer's Guide to Nonfiction
"You can read this book in an hour — but the impact could well last a lifetime. It's simple, smart and inspiring."

—Jennie Nash, author of The Last Beach Bungalow
"In Shimmering Images Lisa Dale Norton traces a clear stimulating path to writing a memoir. Norton starts with the ideas behind the process, how story transforms experience on the page. She then gives the step-by-step process that she has been teaching for decades—finding Shimmering Images (memory pictures) and weaving them into a whole. In the third part Norton looks at some of the tools to craft the process. In writing bighearted, compassionate stories, we contribute to changing the world. Norton's book is bighearted and compassionate. It is a gift to the reader."

—Susan Tiberghien, author of One Year to a Writing Life
"This book shimmers with thought-provoking insights and truth, and Lisa Dale Norton's elegantly spare formula is a valuable addition to the literature on the topic. Even though she specifically addresses only the memoir form, her system of memory retrieval and organization will be useful to any life writer."

—Sharon Lippincott, author of The Heart and Craft of Lifestory Writing
"Lisa Dale Norton's practical and lively guide to writing memoir is like having your very own writing coach holding your hand and guiding you through your story with patience and humor. Her clear, good advice covers everything you'll need to start writing: the difference between memoir and autobiography, claiming your own voice, finding the heart of your story, and finally crafting it into a piece of work to send out into the world."

—Barbara Abercrombie, author of Courage and Craft and Writing out the Storm
"Shimmering Images is how Lisa Norton describes those flashes of memory that haunt us on the brightest of days or in the darkest of tunnels when least expected. Indeed they are, fleeting moments in time we can not forget because we responded emotionally and our lives were forever changed. Moved to great heights of joy, we want to share our feelings with the world. Scarred by fear, anger or loss we want to dig deeper and recapture and share the hope and love that healed. Memoirists feel compelled to take this journey, and in her book Lisa Norton provides a map to show us where to begin, which way to turn, and most important, how to dig up and unlock the truths that were always there, waiting to be told. Anyone who has ever wanted to write memoir needs this precious little handbook to find out where and how to start, and better still, how to keep going in the right direction."

—Penny Porter, author of Heartstrings and Tail-Tuggers and Adobe Secrets, Past-President and Membership Chair, Society of Southwestern Authors
"Shimmering Images has what it takes to be an outstanding how-to book for aspiring writers. It is sound, fertile, imaginative; it guides the aspiring writer around the pitfalls and into the delights of turning memories into memoir. It inspires and grounds the writer with a combination of practical, easy-to-follow steps, a rationale for engaging in this challenging process in the first place and ways to sustain the effort for the long haul. I would recommend this book to teachers as well as to adults who are working
on this genre individually."

—Muriel Dance, Ph.D., Director, Center for Continuing Education; Antioch
University Seattle
"In Shimmering Images, Lisa Dale Norton gently takes you by the hand and leads you through the process of getting down the story of your life. You learn how to access your "shimmering images" — the people, places, and events that are the source of your most powerful stories. You discover how to connect these images to the key turning points in your personal journey, and weave them into the rich tapestry that is your life. Practical and inspiring, Shimmering Images is a must have for anyone contemplating writing a memoir."

—Carol Franco, co-author of The Legacy Guide: Capturing the Facts, Memories, and Meaning of Your Life
"Shimmering Images is the quintessential book on memoir writing and should be required reading for anyone who is thinking about crafting a memoir."

—Jennifer McCord, past president of Pacific Northwest Writers Association
"Lisa Dale Norton's little book is a big-hearted treasure. She gives writers specific guidance, her voice one of passionate encouragement. Norton's message is that when getting going on a memoir, process means more than product—only through a disciplined and creative process can a writer experience the hard-won satisfaction that leads to a book. This spirited guide will be a deskside companion to memoirists old and new for years to come."

—Thomas Larson, author of The Memoir and the Memoirist