How long does a good story last?
With the profusion of blogging—where, at last count, one-and-a-half-million writers post stories every day—the answer may be minutes, maybe a day.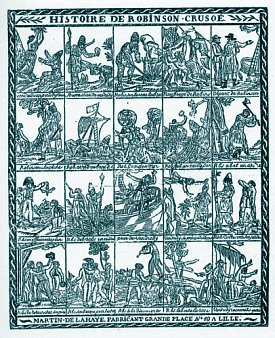 Are all these stories good?
Of course not. Even bestselling books, popular movies, and catchy songs are not always good. Good stories, like all art, abide. They offer heroes who uplift us and show us the way. By witnessing their mistakes and victories, wisdom and humility, we find ways to better live our lives.
As a writer and teacher who has worked with thousands of students over the years, I nodded my head when I read that the heroes of timeless tales once again have found their way to television.
NBC announced plans last week to air four new series this fall based on classic stories from literature and the Bible. According to the network, "Crusoe," based on Daniel Defoe's novel published in 1719, chronicles the lead character's struggle to survive after he is shipwrecked on a remote tropical island. In "My Own Worst Enemy," Christian Slater plays a mild-mannered suburban parent who discovers his alter ego is a spy, a story that mimics Robert Louis Stevenson's 1886 novella, The Strange Case of Dr Jekyll and Mr. Hyde.
Also on the slate of new shows is "Merlin," best known as the wizard from Arthurian legend. Writers have been creating fantasies about Merlin since the 13th century. NBC's "Merlin" is set in the mythical city of Camelot, but told as a modern story.
Our last hero comes from Samuel, a writer of Bible stories somewhere around 190 A.D. His hero hails from the tale of David and Goliath. In the series "Kings," David is a small-town fellow who ultimately becomes a king.
I don't know about you, but in my mind, NBC's new fall lineup could be another way to say that good stories last forever.